Since getting my Celiac Diagnosis, I have taken some form of probiotics off and on, in the hopes of healing my gut.
After every "glutening", I would diligently take those expensive little pills, hoping that whatever damage had occurred would be healed quickly.
I pretty much live in fear that my body isn't getting the nutrients it needs. Sort of like Pre-Diagnosis PTSD – I never want to feel that bad again! So reintroducing good bacteria in to my glutened war zone has always made the most sense to me.
So imagine my excitement at the GFAF Wellness Expo, when I learned about an absolutely delicious fizzy probiotic drink…that I could make from home:
Water Kefir
So what is water kefir?
Well, surely you've heard of kefir. Kefir is a probiotic yogurt drink that I've often added to smoothies, etc. Water kefir is a dairy-free, gluten-free, soy-free alternative to it's yogurt cousin.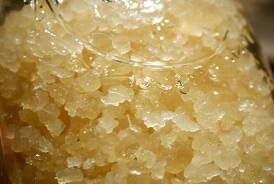 Using kefir crystals, you create a fermented probiotic drink. You can flavor it with all sorts of yummy dried fruit or fruit juice, so the taste is what you make it. From Mixed Berry to Pineapple – Fig to Plum, you decide!
Guess what: The crystals are alive! Yup. They are the strains of good (probiotic) bacteria. During the process of making your beverage, you strain the little guys out and start again. So unlike kombucha, your finished product isn't full of…..things. Then your little guys get to work for you again. So once you buy a water kefir kit, which comes with the crystals, you're set to make water kefir for life!
PLUS the end product is delicious! I couldn't believe how yummy it was at the GFAF Wellness Expo. The first thing out of my mouth after tasting it, "This could get me off wine at night!"
And who introduced me to water kefir?
GRUB!
GRUB is pretty much an amazing place in Wilmington, NC. Offering educational classes and workshops, GRUB helps their community make better choices and take their health into their own hands through education.
I met two of the fabulous ladies behind Grub at the expo, Ryanna Battiste and Liz Flint-Somerville. You can read more about their journey to Grub on their website here.
GRUB's website tells you that many of their clients have reported better digestion, deeper sleep, central nervous system support, clearer skin, and boosted immunity after drinking water kefir. And not only does GRUB teach you how to make water kefir, but they actually sell the water kefir kits too!
Each kit contains two mason jars, kefir crystals, sugar, and dried fruit. Pretty much everything you need to get started!
And today, GRUB has so graciously offered to GIVEAWAY one water kefir kit to a very lucky Gluten Hates Me Reader! Let's heal our guts together!
WATER KEFIR GIVEAWAY
This Giveaway is CLOSED.
The winner is:
Email entry #16: Bronwyn! Bronwyn hasn't tried water kefir, but she's very excited to try it! Also Happy Birthday Bronwyn!
The winner will be chosen Monday, September 2nd at 6pm – Good luck!