Alright friends. I need your help. I have BIG problem.
Well, not a big problem BUT it seems pretty big to me. You see, I am on a caffeinated roller coaster and I don't know how to get off.
We all know I've been stressed with school, being that I'm taking over the allowed load of classes and summer school is cray-cray fast anyway. (Yes, cray-cray.)
So I've been doing what I knew I would do…
DRINKING WAY TOO MUCH CAFFEINE!
I'm in a vicious cycle of caffeine ups and downs. Here's my current routine:
- I wake up at 6am; I'm drinking unsweet tea by 6:45
- 8am I have my first cup of coffee
- 11am I have my second cup of coffee
- 12:30 I have a tea of some sort
From there I usually quit but sometimes in the afternoon I have another coffee at 3pm if I have a lot of writing to do.
But the thing about all this caffeine is that I'm still tired.I never feel like this: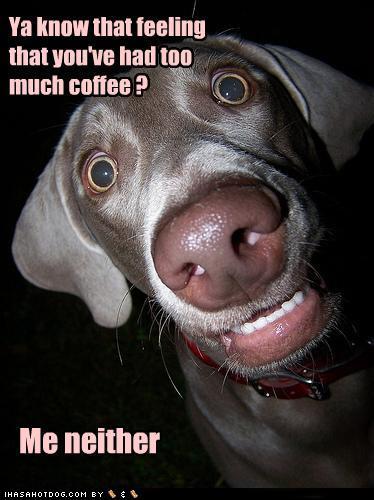 I am DOG tired from 8am to 10am, pretty tired from 10am to 12noon, and just sleepy from 12noon until 3pm. At 3 I get so tired that I want to take a nap BUT taking a nap makes me feel like garbage so I fight it off and hopefully get a second wind around 6pm. I usually exercise between 6 and 7, so I have enough energy to get me through to 10-10:30,
I know something has to change but I can't see my way out of this mess. On the one hand this session is over next week and my next summer session doesn't have a 8am class.
BUT my fall semester is AWFUL. I'm not even going to talk about it. So I have to figure this out quick.
I feel like I'm probably not drinking enough water and I know that I'm going to have a minimum level of sleepiness that comes with being sad from separation. But this is too much.
HELP!
How do you manage caffeine? Should I quit it entirely? Anyone tried mate?