One of the many side effects of being super tired, for me, is that I often find myself drifting off in to day dreams. It's never about anything too interesting…new recipes…my outfit for the day…moving to France for a year. You know, the basics.
But yesterday after the fundraising event, I found myself thinking about all the dinner parties I've thrown in the past. Some that I've even thrown for Foodbuzz
And then I started thinking. If if could have a party with any other gluten free bloggers, who would it be and what would I want them to bring.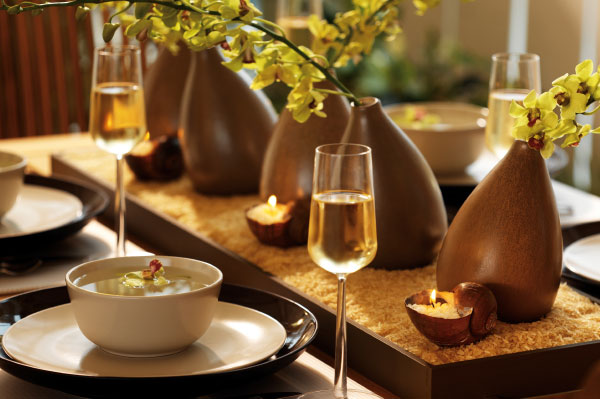 Random right?
But once I started thinking about it…it started to sound really fun!! I mean wouldn't you want to come to party with these ladies and taste these dishes?
I would call the party Gluten Hates Us 2010. :)
First, Allie of Sorry, I can't eat that. Allie's blog is the first I ever read! And I honestly just love that girl…even though I've never met here :) Her dish: Stuffed Acorn Squash
Next, Liz of The Good Eatah. I have been wanting Liz's fur baby Henry and my fur baby Max to meet forever! So this would be a perfect opportunity. Her dish: Individual Apple Crisps
Next, Jill of Hey, that tastes good. Jill is another blogger that I discovered right after my diagnosis. I honestly wish she would open up a restaurant. I would move so that I could eat there at least twice week. Her dish (tough choice): Eggs Benedict (strange I know, but it looks really good!!)
Newlywed Kate of think outside the breadbox would have to come! And hopefully she would bring her cute doggies too! Her dish: No Bake Cookies
It definitely wouldn't be a party without Gluten Free Gidget. And she would have to bring Dickens…this is turning in to a GF/Dog Party. Her dish: Cookie Dough Ice Cream!!
I would be so excited to meet Jess of Gluten Freesta. Reading Jess' blog is like talking to an old friend; we have so much in common! Her dish: GF Buffalo Wings
Sarah from Gluten Free Grazer would definitely be there and I would LOVE LOVE LOVE it if she would bring anything from her GF dinner party. But since I should choose one…Her dish: stuffed peppers
I'm seriously starting to think we should do this. And all of you could come! And maybe Udi's could come… :)
What about you guys? Who would you hope would be at Gluten Hates Us 2010, and what would they bring?